Around the Homestead may earn a commission for purchases made after clicking links on this page.

Learn More

It's HOT! And just like us, our animals need to stay cool and well hydrated. This water helps replace electrolytes lost during hot weather. To help your chickens and other outside animals during the hot summer months, whip up some electrolytes for them.

This recipe usually calls for 1 cup of water and less of the other ingredients, but I have 8 chickens and 2 dogs outside, so I make enough for all of them.

10 cups of Water
3 ounces of Sugar
1.25 teaspoons of Salt
1.25 teaspoons of Baking Soda

Mix all ingredients together and stir or shake until sugar, salt and baking soda dissolve. Each of my pets waterers are different sizes, ranging from small to large, so the amount shown in the photo was exactly enough to fill their water containers 3/4 of the way with electrolyte water and regular water.

Recipe for making 1 cup:
1 cup of Water
2 teaspoons of Sugar
1/8 teaspoon of Salt
​1/8 teaspoon of Baking Soda


Around the Homestead may earn a commission for purchases made after clicking links on this page.

Learn More

Just like us, our animals, chickens included, get hot and look for ways to stay cool in hot weather. I like to treat my girls to a few different varieties of cool treats. First and foremost, make sure they have fresh, cool water at all times.

1. Give them watermelon. It's a nice cool treat and helps to keep them hydrated. They will devour it in minutes, so I like to give them big pieces. We have cantaloupe growing in the garden and I can't wait to give the girls some of that to see how they like it.

2. I get a cake pan, preferably those throw away tin ones you can get at the dollar store. I like to use these because I can just toss it in the garbage and not have to wash it. They WILL get it dirty! In the pan, I place quite a bit of ice cubes and some fresh herbs like basil, oregano, lemon balm, rosemary, parsley and a few rose petals. Then fill it up with water and give it to them to enjoy.

3. Berries. They love berries. Right now we just have a strawberry patch, so my girls don't get a huge variety on berries unless a neighbor gives us some or they are on sale at the grocery store. Just like with the pan of ice cubes, I fill a pan with some strawberries, ice cubes and water.

4. Try to keep their water in the shade as much as possible so the sun doesn't beat down on the waterer making the water warm. No one wants to drink warm water on a hot day.

5. My chickens don't like getting wet. I really don't know of any chickens that do. I take the water hose and spray the ground around the perimeter of the coop, that way they can feel the coolness on the ground, especially if it's a windy day. It almost acts like a fan.

Try all these ways to keep your flock cool, and yourself as well. Have a wonderful and cool summer!

Amelia, Phoebe, Piper, Prue, Bonnie an Baby

Around the Homestead may earn a commission for purchases made after clicking links on this page.

Learn More

​

We like to cut down on feed costs as much as possible. And one way to do that is making your own sprouts. There are a variety of sprouts out there that you can choose from, we usually use alfalfa and barley grass. Alfalfa takes about 2-5 days to sprout. I generally wait the 5 days before taking the sprouts out of the jar. Barley grass takes anywhere from 5-10 days, and I take the sprouts out of the jar around days 8-9.

ITEMS NEEDED:

​1-2 Tablespoons of

Sprout Seeds

Mason Jar

​Mason Jar Ring

Cheese Cloth

*NOTE: If using a mason jar smaller than a quart, use less seeds.

DIRECTIONS:

​Put the seeds in the mason jar. Put cheese cloth on top of the jar and secure with the mason jar ring. Add warm water and rinse the seeds. Drain and add more water, about an inch above the seeds. Let sit 8-12 hours or overnight. Drain, then rinse with fresh water. Set your jar(s) away from direct light. For the first 2-3 days, rinse and drain a couple times a day. After the 2-3 days, rinse daily and lay the jar(s) on the side, allowing air flow through the jar. Depending on what seeds you choose to use, they will be ready in another few days. When your sprouts are ready, pull them out of the jar and serve to your chicks/chickens.

​I usually constantly keep jars of sprouts going, that way I always have some available for my girls.

PHOTO: Soaking seeds for a few minutes before draining and adding the inch of water to soak 8-12 hours to overnight. Left jar is barley seeds. Right jar is alfalfa seeds.
Powered by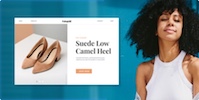 Create your own unique website with customizable templates.
Photo used under Creative Commons from ShanMcG213